Paul A Robert B: 1340 Neuchatel, Neuchâtel, Canton of Neuchâtel, Switzerland D: 1400 M: Maya Muller 1346 Neuchatel, Neuchâtel, Canton of Neuchâtel, Switzerland D: 1450 Switzerland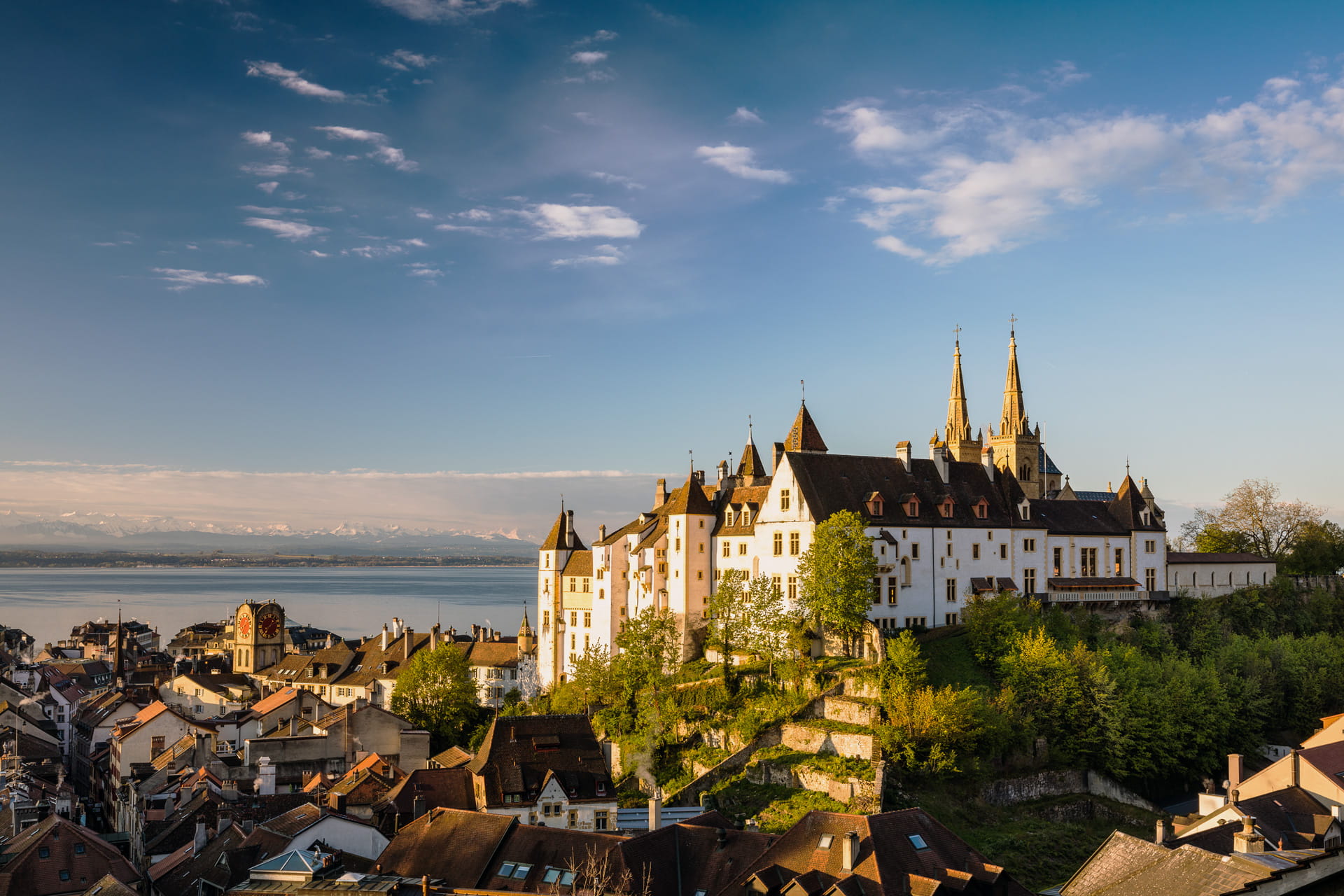 Neuchatel, Neuchâtel, Canton of Neuchâtel, Switzerland
Nicolas Robert B: 1379 apx Le Locle, Le Locle, Canton of Neuchâtel, Switzerland D: 1420 Le Locle, Le Locle, Canton of Neuchâtel, Switzerland M:  Nicole Grandpierre 1366-1420apx

Jean Robert B: 1400apx Le Locle, Le Locle, Canton of Neuchâtel, Switzerland D: 1442 Le Locle, Le Locle, Canton of Neuchâtel, Switzerland B: 
Jehan Robert I B: 1435apx Le Locle, Le Locle, Canton of Neuchâtel, Switzerland D:
Jehan Robert II B: 1460 France. D: 1560 Switzerland. He had one son in 1495, Humbert.
Humbert Robert B: 1495 Lelocle, Neufchatel, Switzerland. D: 1556 Lelocle, Neufchatel, Switzerland. M: 1520 Jeannette DuMont
Guillame William Robert B: 04/15/1537 Lelocle, Neufchatel, Switzerland D: April 1623 in Mount Du Droit De Sonvilier, Saint Imier, Bern, Switzerland.
Daniel Robert B: 1569 Mount Du Droit De Sonvilier, Saint Imier, Bern, Switzerland D: 1635 in Mount Du Droit De Sonvilier, Saint Imier, Bern, Switzerland. M:  (children: Marie Robert 1595,  Madelaine Robert 1596 & Pierre Robert 1598).
Pierre Robert B: 1598 Mount Du Droit De Sonvilier, Saint Imier, Bern, D: 1674 M: 05/09/1622  Judith Sagne B: 1601 D:
Daniel Robert II  B: 1625 Mount Du Droit De Sonvilier, Saint Imier, Bern, Switzerland. D: 1698 Saint Imier, Bern, Switzerland. M: 04/01/1651 Marie Petremand B: 1631 Saint Imier, Bern, Switzerland. D:  Saint Imier, Bern, Switzerland.
Rev. Pierre Robert B: 02/03/1656 Bern, Saint Imier, Switzerland. D: 1715 in French Santee Jamestown, Berkley County, SC. M: 1674 Jeanne "Jean" Braye B: 1660 Saint Imier, Bern, Switzerland. D: 1717 French Santee Jamestown, Berkley County, SC. Pierre Robert was born in Switzerland after his family fled from France. He was baptized and ordained a minister there as reflected in records of the Huguenot Church in Basle. In 1674, he graduated at St Etienne as a physican; attended the University of Basil, 1862 ordained on 19 Feb. 1682. He was a pastor of a Waldensian church in the Piedmont Valley in Switzerland. It is claimed that the Waldenses were the ancestors of the present day Baptists.He came to the North American Carolina's in 1686 with his wife and son.  Pierre served as the first minister of the Huguenot (later the Anglican, now Episcopal) church at St. James Parish, SC, continuing his ministry until prior to 1 Jan. 1710. He was the first Huguenot minister in America. He was the first rector of St. James Anglican Church, although it is unclear whether he was ordained as such since there was no Anglican Bishop in America at the time. (children: Pierre Peter Robert III; Elias Robert; Jean Roberts and Jeanne Robert).
Jean/John Robert B: 1680 in Basle, Basleland, Switzerland. D: 01/25/1760 SC M: 1708 Elizabeth Margaret Dixon B: 1681 D:  . He was French Huguenot, a member of Pon Pon Chapel on the Pon Pon River in Colleton Co, SC. The French Huguenots were a peaceful, industrious people, serving God faithfully in a wilderness. They gained wealth by marketing indigo, rice and naval stores (turpentine and pitch). The region around the Jamestown settlement became what was known as French Santee. None of the original 13 colonies received a stronger infusion of Huguenot blood, faith and valor than South Carolina. Their children: John Robert; Eli Roberts; Mariah Hannah Roberts; Ann Roberts; Thomas Roberts; Mary Broughton; Owen Roberts; Abraham Isaac Robarts I and John Roberts, Jr. 
John R. Robert B: 1709 French Santee Jamestown, Berkley County, SC D: 1791 in Charleston, Charleston District, SC. M: Rebecca~.  Their children: John "the Patriot" Robert and Lewis Roberts.
South Carolina Militia 1779-1781 
Lewis Roberts B: 1757 SC D: 1823 Wayne Cty, GA M: 1776 Mary~. Lewis served in the South Carolina Militia 1779-1781, and served under Capt. Amos Davis, Col. Richard Winn, Fairfield Regiment. And was paid for his services in 1785, and was elected Coroner of Wayne County, in 1811. 
1~Abraham Isaac Roberts 10/25/1770 SC D: 1832 FL M: Ann Andrewn B: 1780 GA D: 1852 FL
3~Zachariah Randall Roberts b: 1779 d: 1840 M: Mary Weeks 1782-1854. They moved to Florida in the early 1800's Columbia County, but it was still known as the Alligator Settlement. Zac wa in ENS Scott's Det Capt 6 Regt 2 Brig, the FLA Militia War of 1812 and the Indian Wars.

1~Asa Roberts B: 1799 D: 1880  M: Argent O'Steen M2): Belinda Burnett 1894-1831. ORD SERG 1 FLA MTD Militia & The Indian Wars.
1~Robert Burnett Roberts 1830-1923
2~Mary Reithy Roberts 1831-1907 M: Hadden
3~Jefferson D Roberts 1851-1916
4~James Bloomer Robertsn 1853-1922
2~Zacharia Randal Roberts 1806-1889 Bethel United Methodist Church Cemetery Lake City, FL. M: 1847 Mary Van Zant Hancock 1808-1878 Bethel United Methodist Church Cemetery Lake City, FL.
01~Allen Hancock 1826 GA D: 1919 Boorowa Cemetery Boorowa, Hilltops Council, New South Wales, Australia, son of Cader Hancock.
1~Elizabeth A. Roberts Edwards 1840–1916
2~Mary Frances Roberts Chalker 1848–1912
3~Mary Reithy Roberts B: 1808 D: 1879  M: William W. Markham/Marcum 1806-1866
4~Capt Arthur Roberts B: 1812 GA D: 1897 FL M: Rebecca Bryant 1820-1859 M2: 1863 Ann Mary Lavinia Collins. CSA, Florida / Georgia Creek & Seminole Indian War Veteran, Corp 6 FLA Militia, The Indian Wars, Florida Pioneer.
1~Laura Ann Julia Summers
2~Raymond Arthur Young Roberts
3~Lorima Alaska Davis
2~John Robert Buttermilk Roberts B: 02/27/1777 Edisto, Charleston, SC D: 05/14/1854 Lake City, FL. The family moved to GA around 1800 M: 1798 Phoebe Weeks O'Steen B: 02/22/1785 Carteret, NC D: 1851 Lake Butler, FL. Daughter of John Alexander O'Steen & Ada Weeks. John was Justice of Peace 1800-1803. In 1803 they moved across the Altamaha River when Wayne County was created, and became among the first settlers.    
1~John J. Roberts B: 11/02/1799 McIntosh, GA D: 01/16/1877 Lake Butler, FL M: Sarah Sweat B: 06/06/1822 D: 11/01/1898 Lake Butler, FL
2~Lewis Leonard Roberts B: 06/23/1802 Liberty, GA D: 09/01/1854 Columbia, FL  M: 12/15/1825 Mary Knight B: 1805 GA D: 1875 Swift Creek Cemetery, Lake Butler, FL. Daughter of Capt. Jonathan Knight, 1781-1852 (Around 1810 Jonathan was elected Sheriff of Wayne County, Georgia. He later served as a Justice of the Peace for Wayne County, Georgia. He served in the War of 1812 as a Captain in the 74th battalion, Georgia Militia. He also served in the Indian War of 1840 from Lowndes County, Georgia. Prior to this he served as a Justice of the Interior Court for Lowndes County Georgia in 1826), and Elizabeth Hannah Tucker-Knight, 1788-1853 (Prior to Florida becoming a state in 1845, Jonathan Knight moved his family, thirteen slaves, horses, cattle to land he bought near Middleburg, Florida which at the time was in Duval County, but is now located in Clay County, Florida. He and his wife are buried at the Fowler Cemetery, located at Middleburg, Florida).
1~Pvt. Jonathan Knight Roberts B: 11/15/1826 Valdosta, Lowndes County, GA D: 1907 Dunn Creek Cemetery, FL. M: 10/27/1853 Mary Adeline/Adelaide Alford B: 08/09/1836 D: 12/25/1920, d/o Hansford R. Alford and Jincy Mann. Jonathan moved to Columbia County with his parents and two brothers and a sister about 1843. Jonathan enlisted in the Confederate Army in Company E, 1st Regiment, Florida Cavalry at Sanderson, Baker County on 16 October 1861 as a musician. The regiment was organized in Tallahassee in July 1861 and served in Florida until the spring of 1862. The regiment fought at Richmond and skirmished in Kentucky and Tennessee. Jonathan was discharged on 16 July 1862 when the company was dismounted. Jonathan joined Captain Stewart's Company, 6th Battalion, Florida Infantry. This company was soon reorganized and merged with Company E, 9th Florida Infantry on 18 February 1863. Jonathan was wounded in the left arm and thigh during the Battle of Cold Harbor, Virginia on 4 June 1864 when a mortar shell exploded. Jonathan was hospitalized in Richmond on 5 June 1864 and furloughed 21 July 1864. He filed for a Confederate pension in 1897. Mary filed for a widow's pension in Baker County on 01/03/1908, and the pension was approved on 07/11/1908 for $120 per year.
Mary Adelaide Alford-Roberts
1~William Parker Roberts B: 1865 D: 1947 M: Isabel Bryant
1~Arthur Roberts   B:        D:
2~Blanche Roberts B:        D:
3~Bertha Roberts    B:        D:
2~Aaron Roberts B:     D:     M: Clair Saures B:     D:
1~Ernest Roberts B:     D:     M:
2~Irene Roberts B:     D:     M:
3~Josephine Roberts B:     D:     M:
4~Gladys Roberts B:     D:     M:
5~Irma Roberts B:     D:     M:  
3~Thomas Henry Roberts B: 11/25/1859 Sanderson D: 11/20/1950 Edgewater Cemetery. M:  07/23/1883 Georgia Catherine Lowe B: 12/26/1867   D: 08/28/1951 , d/o John Wesley Lowe and Harriett West. The family first settled in Maytown, Volusia County around 1890. They moved to the Turnbull Bay area of New Smyrna Beach around 1894. He eventually owned 102 acres on which he farmed, grew oranges and grapefruit, had a grape orchard and had three oyster leases on Turnbull Bay.
L-R back row: Thomas, Georgia, Jonathan and Jesse. Front row: Maude, Ella and Roy.
1~Jesse Roberts B:     D:     M:
2~Maude Roberts B:     D:     M:
3~Roy Roberts B:     D:     M:
4~Ella Roberts B:     D:     M:
4~Lapina Roberts B:     D:     M:
5~Jonathon K. Roberts
1~Ellsworth K Roberts B:   D: 
2~David B Roberts B: 06/1828 D: 1901
3~Elizabeth 'Betty' Ann Roberts B: 12/20/1830 D: 1906  M: Jordon Lacy Gaskins 1815-1856 M:2) James A. Cason 1828-1890
1~William Henry Gaskins  B:      D:     M:
2~Louis F Gaskins              B:      D:     M:
3~Dr. John Lacy Gaskins   B:      D:     M:
4~Thomas Fisher Gaskins  B:      D:     M:
5~Mary Elizabeth Gaskins  B: 1858 D: 1938 M: Alvarez
01~Francis R.  Cason           B:      D:     M:

02~Jefferson Davis Columbus Cason  B: 1860 D: 1923  M:

03~Charles P, Cason B: 1862 D: 1919 M: 
04~James C Cason  B: 1866 D: 1925 M:

05~Martha Melvina Cason   B: 1867 D: 1942 M: Crews

06~Lemuel Bryant Cason      B: 1872 D: 1940 M:

07~Warren C. Cason              B:      D:     M:

08~Susan Amanda Cason 1872–1954 M:  Dyal 
Elizabeth Ann Roberts Gaskins Cason
The Cason home on state road 237, Lake Butler, Florida, early 1900s 
4~William P. Roberts B: 1831 D:
5~Saleta Ann Roberts B: 06/15/1833 D: 1916  M: Soloman D Mikell 1832-1883
1~William L. Mikell 1856–1916
2~Thomas Henry Mikell 1857–1896
3~John Shepard Mikell 1861–1939
4~Solomon D. Mikell 1865–1939
6~Samuel Brown Mikell 1870–1951
6~Pvt. Reuben S. Roberts B:1835 D: 1864 CSA M: Harriett Johns Roberts 1839–1927
1~Christopher Columbus Roberts 1858–1913
2~William Abel Roberts 1863–1925
7~Mary Roberts B: 1837 Columbia, FL D:
8~Martha Eliza Roberts B: 02/10/1838 Columbia, FL D: 1921 M: Daniel P Wilkison 1833-1906
9~Abel Roberts B: 1840 D: 1862 while a soldier in the Confederate Army
10~Cynthia Jane Roberts 1844-1913 M: Griffin
1~Rufus Griffin 1864–1941
2~Sallie Jane Griffin Greene 1872–1934
3~Sgt. William P. Roberts B: 10/11/1804 Liberty, GA D: 12/02/1852 GA M: 12/22/1825 Sarah Elizabeth Knight B: 1824 Effingham, GA D: 10/13/1895 Levy, FL. Daughter of Rev. Capt. Jonathan Knight 1781-1860 (served in the War of 1812 as a Captain in the 74th battalion, Georgia Militia. He also served in the Indian War of 1840 from Lowndes County, Georgia. Prior to this he served as a Justice of the Interior Court for Lowndes County Georgia in 1826) and Elizabeth Hannah Knight, 1787-1860. He was a 2nd Sergeant in Capt. Levi Knight's Militia Co. in the Indian Wars 1836-38.

4~Ruebin Roberts  B: 04/17/1807 Camden, GA D: 1875 Berrien, GA M: Elizabeth A. Clements B: 10/26/1805 (husband of  Elizabeth Conners Clements B: 10/26/1805 & Anne K. Roberts B: 1807).
5~Bryant J. "B.J." Roberts B: 06/04/1809 Wayne, GA D: 07/08/1888 GA M: 01/26/1832 Wealthy A Marhis B: 1813 D: 1888.  He had a large plantation and lived in comfortable circumstances. He was a pecan farmer. 
Bryant J. Roberts (Cat Creek Primitive Baptist Church)
6~George Washington Roberts B: 04/23/1812 D: 01/10/1885 Charlton, GA M: Mary A. "Polly" Mathis B: 1815 GA D: 1883 Echols, GA. During the Civil War he moved to the Raulerson's Ferry (Baxter) section living at different times on each side of the St. Mary's River. He was elected as County Commissioner in November of 1863.
1~Emily Roberts 09/06/1832 Lowndes, GA D: 1909     M: Francis Daugharty
1~James Daugharty
2~Pheobe Roberts B: 1834
3~Rhoda Roberts B: 1836 D: 1913
4~Elizabeth Roberts B: 1838 D: 1920
5~Aaron Roberts B: 1840 D:
6~Harriet Roberts B: 1842 D:
7~James Roberts B: 1844 D:
8~Adoniram or Niram Vann Roberts B: 1847 D:
9~Dora A. Roberts B: 1849
10~John G Roberts B: 1851 D: 1920
11~Enoch Nathaniel Roberts B: 08/15/1856 D: 07/16/1934 M: Emily Green B: 1854 D: 1929 Daughter of Elisha Green
12~Jeff E. Roberts B: 1854 D: 1945
13~Sarah Ann Roberts B: 1856 D:
7~Pvt. Stephen Williams Roberts B: 02/06/1814 Wayne, GA D: 01/10/1894 Lake Butler,     M: Mary Ann 'Polly' Boyd B: 07/01/1822 D: 11/12/1886 Lake Butler, FL He enlisted in the FL Company. E., 9th Fla. Infantry 
8~Phoebe Roberts  B: 12/31/1816 GA D: 04/18/1854 Lake Butler, FL M: 1830 Isaac Blake Carleton B: 09/23/1800 Dublin, NC D:  06/27/1877 Lake Butler, FL
9~Pvt. Nathaniel Roberts   B: 01/26/1823  D:  04/15/1916 Midway, FL. M: Nancy Sweat, 1828-1892. Moved to Florida in 1855. Enlisted on March 4, 1863 at Lake City, Florida as a private in Co. E, 9th Fla. Infantry. Was present at Cold Harbor, Stoney Creek, and Petersburg. Furloughed in October, 1864 on account of typhoid fever and did not return to active service before being paroled on April 9, 1865 at Appomattox Courthouse, Virginia.
1~Elias Knight Roberts  1850-1939 M: Harriett Beauford 1854-1917
2~Sarah Roberts  1852-1906 Bell, FL M:  1871 William Crawford Lindsey 1849-1932
3~D Frank  Roberts  1855-1930
4~Melvina Roberts 1857-1941 M: John Ervin Dekle 1855-1906
5~Sylvanious Roberts 1868-1945 M: Belle Eugenia Russell 1888-1978
1~Emma Mae Roberts 1916-1988 M: Hubert Joseph Bishop
6~Pauline Roberts  1869-1896 M: 1887 Thomas Henry Milton 1857-1939
10~Mary Roberts B: 04/26/1826 Wayne, GA D: 04/02/1903 Clinch, GA M: Josiah Sirmans B: 03/25/1817 Emanuel, GA D: 02/20/1880 Clinch, GA
11~Nathaniel Enoch Roberts Sr B: 1829 D: 1869 M: 1847  Parthenia A. Morgan B: 1830 D: 1872. Daughter of Solomon W. Morgan & Mercy P. Geiger. Nathaniel Enoch Roberts, the last child born to John R. and Phoebe Weeks O'Steen Roberts in 1829.
 It's believed after they moved to Lowndes County, GA. was he was married to Parthenia A. 'Phena' Morgan. She was born in 1830 in Appling County, GA. The daughter of Solomon W. Morgan and Mercy P. Geiger. Their first two children were born in Lowndes County, GA. Early in 1850, they moved to Columbia County, FL. and settled in the area that is now Union County. The 160 acres of land that they settled on, was about 8 miles west of Lake Butler, and straddled what is now county road #100 along Swift Creek. It is where the Owens-Illinois Forest Station is now located. Back in those days, it was open range, and his live stock could roam at-will. He owned just enough land to grow crops. He was also a slave owner, and later on, owned and operated the first general merchandise store and Inn in the young and small town of Lake Butler.  The store and Inn were located about where the old Tomlinson-Maines drug store building was.  He had an 'overseer' to look after the farm and live stock. A man named S.S. Morgan, who was a cousin of Phone's'. Early in life, Nathaniel Enoch Roberts was known as 'Nat', and for the rest of his life he was known by that name. He was on his way to becoming 'Well Fixed' when the Civil War started.  He enlisted in the 2nd FL Cavalry, Company 'K' at Callahan, FL, and served through out the rest of the war. During the war he was wounded, or contacted an illness that afflicted him for the rest of his life. He was paroled at Waldo, FL., in 1865. After the war he served as County Commissioner of Bradford County, during a very trying time. As stated, his health wasn't very good after the war and he died in 1869 as a result of his war wounds. He is buried near his mother and father at Swift Creek Church cemetery. After his death, his wife took over the operation of his estate. She carried on well with this job, until she was accidentally killed while making syrup. She died Nov. 8, 1872 and is buried next to her husband at Swift Creek. Her oldest son, George was made administrator of her estate. (As stated in records at Stark, FL.) After the death of Nathaniel "Nat" Roberts in 1869, the widow Parthena Morgan and her children settled in to operate the extensive Roberts plantation. Their 160 acres lay about six miles west of Lake Butler, and is now split by Highway 100. There were nine children including our subject Nathaniel Enoch, Junior, who was born in 1857. On a crisp fall morning Parthena and the kids were grinding cane for syrup. One of the dogs nosed about underfoot, an irritating and unsanitary situation in Mrs. Roberts' way of thinking. She threw hot syrup on the animal. Her teenaged son Enoch angrily grabbed a stalk of cane and struck his mother, hitting a blood vessel and Parthena died. The lad became "Devil Enoch" who had beaten his mother to death with a stick simply because she had displeased him. The young fellow went into shock for three days, and the family feared he would soon join his mother in death. Only with gentle handling by his family did young Enoch re-enter living. He was never free of the trauma, and it haunted him until he was gunned down in Lake Butler several years later. As soon as he was of legal age, he married Martha Elizabeth, a daughter of William H. Parrish. They began housekeeping with a feather bed, fourteen head of cattle, a horse, and an old shucks saddle. Within a few years Mr. and Mrs. Roberts were tending cattle that ranged over Baker, Bradford (the part now Union), and Columbia Counties. Children began arriving, and there would eventually be eleven by the time Enoch died at age forty-two, with a twelfth on its way. The older children were put to work on the farm and among the livestock herds, saving labor costs. Some of the old-timers said that Enoch also operated a store in the vicinity south of Olustee. Mr. Davis and the late Mr. Clede Harvey related that Devil Enoch also owned a grist mill for grits. The mill existence was just off of Swift Creek Cemetery in Union County and that it was operated by Joe Brannen. Mr. Brannen was instructed to take gold or a sizable amount of the customer's corn as payment. The grits mill was destroyed by the big storm of 1896 and never rebuilt. Devil Enoch Roberts was a paradoxical character. He toted a reputation for being a fearsome man but also was never known to have neglected his family's phyical well being or to have stolen anything that was not his (so stated his widow in later years). In addition to providing well for his family he brought home, about the year 1890, a small Negro boy named Tom Johnas and reared him. In the manner of most white folks of ninety years ago, Mr. Roberts did not provide sleeping quarters for little Tom in a main house but that seemed to be the only difference made. Tom was evidently privy to some of his benefactor's most cherished moments for he had seen Devil Enoch's hiding place for his gold. After Mr. Roberts died and his widow could not discover the main depository of the precious metal, it was young Tom Johnas who directed her to it. Tom Johnas eventually moved away, married, and reared and educated his family. As long as he lived he regularly visited the Widow Roberts. Some of the Roberts grandchildren often mused over the scene, many years later, of Mrs. Roberts in her rocking chair and Mr. Johnas on the porch step and wondered what were their topics of conversation. Parthenia Roberts was killed by her son. After her husband died, she raised the children alone. One day they were boiling sugar cane sap and their dog kept coming around, so she poured hot syrup on the dog. Her son saw her do it, got mad, and hit her in the head with a piece of sugar cane. It killed her instantly. The children were divided among their aunts and uncles, with many of them going to Levy County. No one wanted to take the boy but finally an uncle took him.

1~Linnie/Linia Ann Roberts B: 08/19/1848 D: 10/20/1917 M: 01/11/1866 James Knox Sheffeild B: 10/02/1846 GA D: 04/30/1914  11 children.
2~George Washington Roberts II B: 04/27/1848 Olustee, FL D: 12/17/1944 Midway Church of Christ Cemetery, Bell, FL. M: 09/15/1870 Mary Alston Jameson B: 01/02/1855 Lake Butler, FL D: 12/24/1916  9 children
1~Eula Roberts Brooker 1871–1948
2~Lancaster Nathaniel Roberts 1874–1915
3~Sherod Austin Roberts 1876–1940
4~Lela W. Roberts Gay 1878–1962
3~Mary Evalee Roberts B:03/16/1852 Union, FL D:  10/06/1932 Union, FL M: Frank E. Andrews  5 children
4~Nathaniel Enoch 'Devil' Roberts Jr B: 04/06/1857 Baker Cty, FL D: 08/21/1899 Lake Butler, FL M1): Arbit Lenchia Denmark B: 1861 D:  Guyton, GA. M2): 1875 Martha Elizabeth Parrish B: 1859 D: 1932. 12 children.
1~Charles Abram Roberts B: 01/10/1876 D: 09/19/1936 M: Lucretia Nettles B: 1882 D: 1965
1~Rubye Roberts 1900-1962 M: Shirley Elmer Piper 1900-1989
2~Myrtice Gertrude Roberts 1902-1993 M: Francis Olmsted Rawls 1894-1975
1~Francis Olmsted Rawls 1920-1974 M: Leta Perle Rimes 1925-1997.
3~Clarence Abram Roberts B: 11/05/1903 D: 12/21/1973 Dekle Cemetery Lake Butler, FL M1): 1928 Gertrude Ann Wynn 1908-1961 M2): 1961 Marjorie Mizelle 1921-2010. Roberts was one of six delegates elected to attend the convention at which the first county officers were nominated. Roberts was named to the first Board of Union County Commissioners for District 1 in 1921. From 1934 to 1938, Roberts served on the Lake Butler City Council. He again served on the Board of County Commissioners, and was chair from 1940 to 1948. 
He was a Florida state legislator. He served in the Florida House of Representatives on multiple occasions for Union County. He was also a noted pecan farmer, cattle rancher, timberland owner and naval stores operator. Roberts became president of the Imperial Ranch and Tung Corporation in 1952. He was appointed to Florida Forestry Board in 1952 by Governor Fuller Warren, serving until 1956, when he assumed the board presidency. He was also active in many community associations, including the Chamber of Commerce, Masons, Rotary Club, and American Turpentine Farmers Association Board. He was a lifelong resident of Lake Butler, Florida.
1~Elizabeth Ann Roberts Fortner 1931–2020
2~Babs Roberts Montpetit 1933–2007
3~William RobertsWilliam Van Roberts 1935–1992
4~Avery Bascom Roberts 1905-1917. Avery died at the age of 12 yrs after a horse fell on him.
5~Cecil Roberts 1907-1985 M: 1930 Bertie Gallop 1913-2004
1~Constance Marie Roberts 1932–1980 M: Skinner
1~Infant Daughter Skinner 1956
6~Iva Bernice Roberts 1909-1984 M1: John William Bridwell 1891-1935 M2:  Holmes
7~Nathaniel Enoch Roberts II  09/25/1912 D: 03/17/1980 M: 1935 Josie Lee Shaw B: 07/16/1918 in Florida D: 07/09/2000 and was buried in Thomas Cemetery, Alachua County, Florida.
1~Myrtice Dell Roberts B: 10/20/1936 D: 
M: Melvin F. Long B: 01/28/1937 D: Farmer/corn: lived in High Springs, Ft White, Florida.
3 children:
1~Jane Long B: 09/08/1956 D: M:

2~Sue Ann Long B: 08/03/1962 D: M:

3~Shanna Lee Long B: 07/30/1975 D: M:

2~Jessie Lee Roberts B: 10/29/1939 M: Tommy Gene Lindsey B: 08/17/1936 D: 3 children:

1~Laurie Lindsey B: 01/13/1962 D: M:

2~James Scot B: 08/10/1965 D: M:

3~Staci Lynn B: 10/06/1968 D: M:

3~Nathaniel Enoch Roberts III B: 05/11/1942 D: M: Sandra Alday B: 11/18/1947 D: 2 children:
1~Lesley Tara Roberts B: 09/12/1970 D: M:
2~John Mark Roberts B: 07/20/1974 D: M:
8~Howard Everette Roberts 1914-1985
9~Phillip Earl Roberts 1915-1974
10~Charlie Freeman Roberts 1917-1999 M: Martha M. Williams 1919-1994
1~Hugh Wesley Roberts 1939-2019 M: 1968 Beverly Ann Stanton
11~Charles Abram Roberts II
12~Ernest Rodney Roberts 1921-1997 Lake Butler, FL M: 1946 Geneva Holton 1925-2006 (divorced in 1991). Sergeant- U.S. Army - WWII.
2~Nathaniel Enoch Roberts B: 01/26/1878 Lake Butler, FL  D: 03/01/1950 M: 11/14/1901 Mamie Irene Deese 1885-1967
1~Blanche Roberts 1905-
3~Ida Roberts B: 04/27/1882 Lake Butler, FL  D: 10/02/1911 Lake Butler, FL M: Stephen A. Douglas 1878-1956
4~Lula Roberts 09/08/1879 Lake Butler, FL  D: 05/08/1918 Union, FL M: John J. Croft 1875-1944
5~Onie Opal Roberts 1879-
6~Agnes Mary Roberts B: 05/11/1884 Starke, FL D:  11/10/1904 Lake Butler, FL M: 1900 Jesse Lang Dowling 1883-1980
7~Virginia Lee Roberts B: 01/29/1887 Lake Butler, FL  D:  08/27/1973 M: William Tucker Andrews
8~Eula Beatrice Roberts B: 04/22/1890 Lake Butler, FL  D:  11/05/1947 Daytona Beach, FL M: Jessie Lang Dowling 
9~Henry Sheppard Roberts B: 02/08/1889 Oluatt, FL  D:  07/10/1986 Union, FL M: 1909 Annie Croft 1894-1988 WWI 1917-1918
10~Cheta Mae Roberts B: 12/20/1891 Lake Butler, FL  D: 06/12/1979 High Springs, FL M: Horace F. Douglas 1884-1975
Cheatie Mae Roberts, left & her sister Eva Estelle Roberts, right
11~Eva Estelle Roberts B: 04/07/1893 Lake Butler, FL  D:  05/19/1965 Groveland, FL M: John Leon Chancey 1895-1976
1~Vera Aline Chancey Hamilton 1916–2011 
2~Marjorie Chancey Richardson 1920–1995
3~Doris Chancey Brown 1922–2010
4~Evelyn Chancey O'Neal 1925–1983
5~John Leon Chancey 1926–2019
12~Maude A. Roberts B: 02/26/1896 Lake Butler, FL  D: 02/12/1968 Stake, FL M: Wesley L. Andrews 1891-1964
13~Jessie Earnisteen Roberts B: 02/11/1900 Lake Butler, FL  D: 01/04/1981 Starke, FL M: Thomas C. Chastain I, 1895-1949.
1~Thomas C. Chastain II 1920-2003
5~Leacy Ann Roberts B: 12/09/1859 Union, FL D: 05/05/1945 Levy, FL M: Moses F. Asbell B: 06/07/1858 GA D: 08/04/1919 FL 
7~Luvenia Susan Roberts 1863-1938
8~Susan Luvenia Roberts B: 08/11/1863 Lake Butler, FL D: 03/23/1938 Trenton, FL M: 1881 William Cone Walker 1851-1934
1~Lula Elizabeth Walker Hilton 1888–1963
9~John Roberts B: 07/01/1865 Lake Butler, FL D: 1896 M: Delia Chancey B: 12/07/1865 D:  05/24/1906
1~Leanora Roberts B: 1883 D:
2~Lex Roberts B: 02/10/1884 D:  09/15/1981 M: Vertie E. Roberts 
1894-1974
10~Martha Louise Roberts B: 01/27/1868 New River, FL D:  05/20/1946 M: James John Bethea 1861-1946
11~Nathan Roger/Rodney Roberts B: 07/05/1869 Bradford, FL D: 10/29/1950 Gilchrist, FL M: 03/04/1889 Julia Virginia Anderson 1871-1950, 10 children M:2) 1936 Elberta Jenkins 1906-1975
1~Oscar Roberts1888–1961
2~William R. Roberts1892–1926
3~Marion Enoch Roberts1898–1944
4~Nathan R Roberts1903–1987
5~Tessie R Kepler1905–1976
6~Bertha R Wolcott1907–1978
7~Margaret Roberts 1909-1984
8~Hazel Roberts Gravely1910–1987
9~Christine Alene Roberts 1913-1992
10~Ellis Nelson Roberts1915–1988
4~James Henry Irwin Roberts B: 1784 SC D: 1868 FL M: Temperance Davis 1790 SC -1883 FL
---
1938 MUSTER ROLL OF CAPT. LEVI J. KNIGHT'S
In 1838 the Indians in this section of Georgia went on the warpath, and the state militia was called out to repel them. The following seven companies of state militia from Ware and Lowndes counties saw service in this war, and these rosters are taken from the records in the capitol at Atlanta. The following is the caption as copied concerning Capt. Levi J. Knight's company:Independent Company from Lowndes county, from 15th day of August, 1838 to 15th day of October, 1838, which entered the service on a sud
den emergency to repel the invasion of the Indians into that county in the year 1838.
First Lieut., Barzilla Staten 
Second Lieut., George Roberts 
First Sargent, Martin Shaw 
Second Sargent, William P. Roberts 
Third Sargent, Abram Register 
Fourth Sargent, Reubin Roberts
First Corporal, James Johnson
Second Corporal, Mark Ratcliff 
Third Corporal, John Register 
Fourth Corporal, Harmon Gaskins